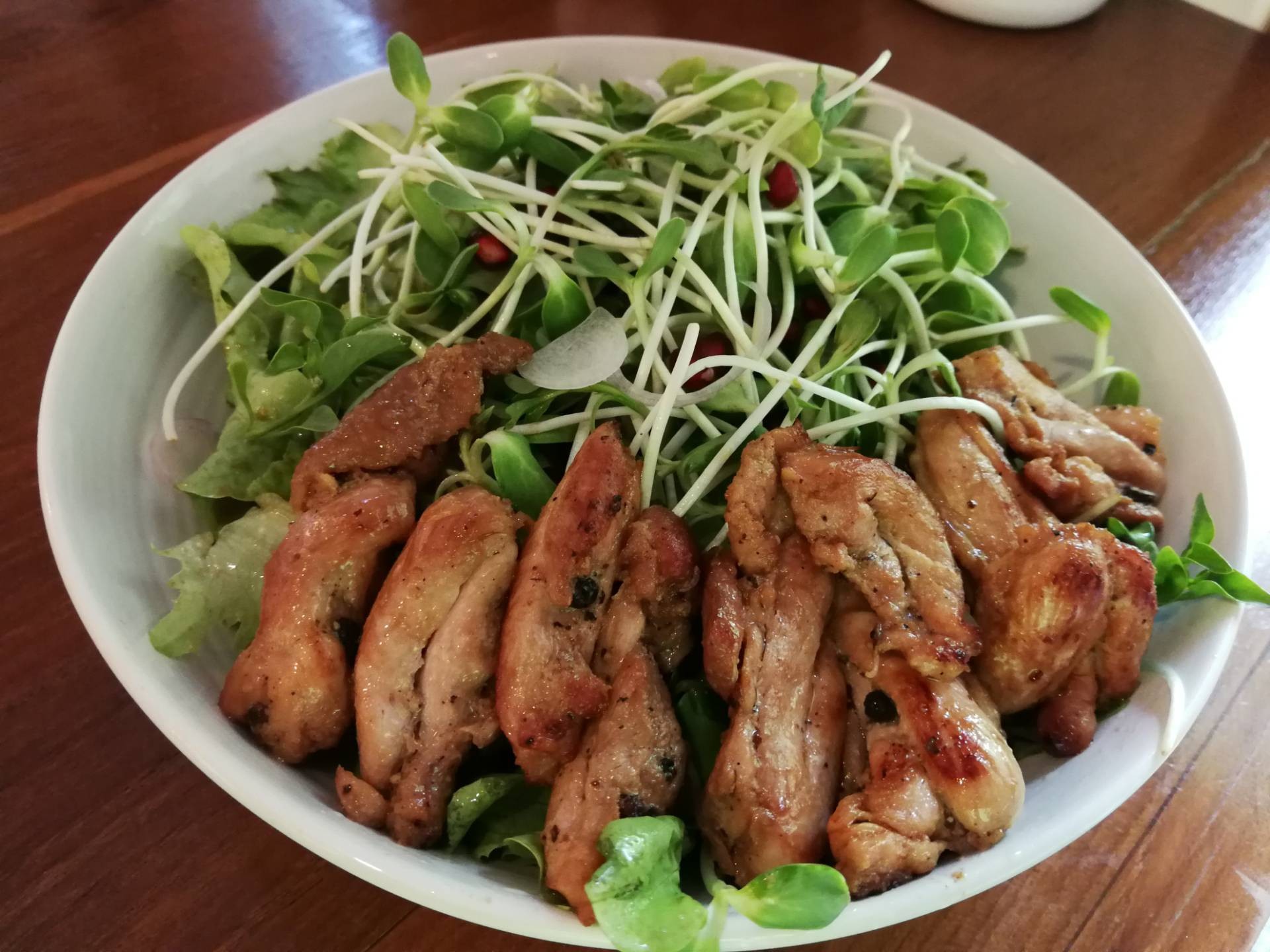 Enjoy our cake slices, Western style breakfast, and some Thai influence dishes with awesome coffee and twisted juice.
A co-working space and a perfect place for families and friends to dine.
hours : 8.00 am - 4.30 pm
closed every Wednesday
/ parking lots
/ free wifi
/ no electrical outlets (sorry)
/ cash only
/ 10% service charge
240
Egg Rothko (Must try)
Over easy egg nest in a thick buttered toast topped with melted cheddar, baby tomatoes, Italian basil & organic salad, smoked sausages and bacon
240
230
Favorite Scrambled
Lightly cooked eggs with fresh organic tomatoes, Italian basil, mozzarella cheese and bacon served with buttered toasts
230
240
Shakshouka
A poached egg in tomatoes sauce with onions, peppers, spices and pork sausage. Topped with pecorino and buttered toasts.
240
195
Simple Joe
2 eggs your choice: scrambled or fried. Homemade sausage patties, bacon, smoked sausage and buttered toast.
195
250
The American Breakfast
2 pancakes, bacon, smoked sausages and 2 eggs of your choice: scrambled or fried.
250
240
Classic Fluffy Pancakes
Banana, strawberry, blueberry, whipped cream& sprinkled salted chocolate cookies crumbs
240
300
Grand Marnier French Toasts
My mother's special recipes of orange liqueur, warm butter, cinnamon and vanilla. Served with sausage patties, fresh apple, mango and strawberry. The perfect combination of sweet and savory.
300
220
Biscuit & Gravy
True Southern comfort with home made biscuit and Sloane's pork sausage gravy, spring onions fried egg and bacon.
220
210
Baker's Rice Bowl
Over night marinated chicken. White Jasmine rice mixed with Thai mixed herbs and our homemade Jaew (Tamarind sauce). Mildly spicy. Topped with a fried egg and fried shallots.
210
220
Hello Sunshine
Light and crispy buttermilk waffle, sunny side up, smoked bacon and maple bacon sausage.
220
275
Fried Chicken and Waffles (Weekends only)
Light and crispy buttermilk waffles, sunny side up with ginger soy sauce, Harlem's inspired fried chicken with an Asian's twist.
275
Egg Benedict (Weekends only)
2 poached eggs, classic Hollandaise, over thick home made buttered toast. Organic salad, tomatoes, mango, shallot and Italian basil. French fries on the side. Bacon / ham or Sloane's bacon and maple sausage 300/ Smoked salmon 325
250
Tuna Salad
Thai style tuna salad served with organic greens + tomatoes and chili.
250
250
Buttermilk Chicken Salad
Organic greens, arugula, sunflower sprouts, watercress, granny smith apples, Indian pomegranate, Baker's grilled chicken. Served with light and tangy buttermilk dressing.
250
Spaghetti Corned Beef
With garlic and fresh chili 210
210
Drunken Spaghetti
A.K.A "Kee mao" with ham and bacon
210
195
Spaghetti Salted Fish
With mushroom, dried chili and garlic
195
195
Spaghetti Baby Tomatoes
Pan seared till sweet and juicy, fresh basil and garlic, topped with pecorino cheese
195